MCD Racing is the world leader in producing 1/5 scale four wheel drive (4WD) radiocontrolled (RC) model racing cars. The company produced the world's first 4WD 1/5 scalecar, the first 1/5 shaft driven RC car and the world's only valved shock absorbers. MCDhas won many championships such as the 2009 German 4WD 1/5 scale racing crownwith three first place and four podium finishes in seven races. MCD recently unveiled its newest Race Runner V4 car which has been redesigned with over 50 new parts to deliverimproved handling, performance and durability.
MCD's cars are built from over 1000 intricate parts each of which has been carefullydesigned to withstand the rigors of speeds up to MCD's world's record of 161 mph. "We design the cars using the latest solid modeling systems," said Yetkin Yazici, Industrial Design for MCD. "But viewing an image of a part on a computer screen is not enough to determine whether the design is correct."
In the past, it was not unheard of to spend $20,000 to $40,000 and a month to make injection molding tooling only to discover that the part was not right. In most cases MCD was able to fix the tool for $5000 or $10,000 but there have been times when it had to remake the tools from scratch. For these reasons MCD usually made aluminum prototypes but these took 3 days, were expensive and did not provide a good match to the properties of the production plastic parts.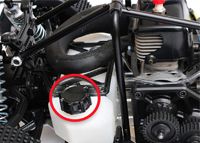 Yazici suggested that the company begin using 3D prototyping services. He started by ordering parts from several service bureaus. "One 3D printing process produced good looking parts but they were not strong enough for use as functional prototypes. But we found that parts produced on a Dimension printer had the strength needed for testing on the track." While Dimension prototypes cannot withstand full-speed racing, which requires composite parts, they can be run on the race cars at moderate speeds to evaluate functionality before ordering injection molding tooling.
Based on this success, MCD purchased a Dimension 3D printer one year ago. Since then the company has produced about 200 prototype parts for its own cars as well as many others for sister companies and for sale in its own service bureau business. "It takes only one day to produce a prototype part on the Dimension 3D printer," Yazici said. "So we can now prototype nearly every new part to see how it looks, how it fits together with other parts and run it on the track to see how it performs before ordering production tooling."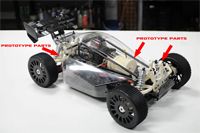 MCD's ability to quickly generate additional design iterations often helps the company improve the design resulting in better performance on the track. In one example, Yazici made a rapid prototype of a gas cap that needs to be opened and closed quickly during races. Installing the prototype on the car, he noticed his hand slid off the bottom so he added a surface that stopped his hand from sliding vertically. "The functional prototype made it very easy to identify and fix the problem," Yazici said. "Our Dimension 3D printer has on numerous occasions saved us more than its cost by identifying problems that we were able to fix before we ordered expensive injection molding tooling."
-Source : Dimensionprinting