Here's a less expensive way to get into this class of motor without breaking the bank.
With the mf - RaceLine cylinder kit you can upgrade from your stock Zenoah to a mf-Tuning Race Line series engine at a budget price. The difference to a complete mf - Tuning engine is just that you don?t have the Evolution?s bottom end with revised crankcase and balanced crankshaft.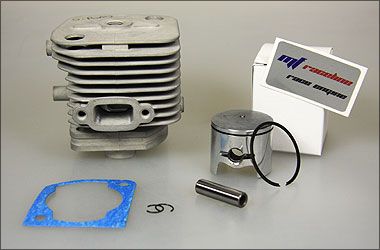 Modifications:
- Raised compression
- Ports modified
- Intake and outlet optimized
- Piston modified to match the optimized ports.
- Piston weight reduced
Kit includes
- Cylinder
- Piston
- Piston ring
- Piston pin retainer clips
- Cylinder gasket
- Spacer washers for needle bearing
- Incl. mf-Race Line Logo / Decor
Price: 277$