This is the Airtronics M12 FHSS-4 2.4GHz Radio System with an included Airtronics 92014 4-Channel Receiver. The M12 is equipped with a 4x higher spec CPU compared to the previous world champion model, the industry-leading M11X. Redesigned from the ground-up, the M12 is the realization of lofty goals to more than double it's analysis ablility and speed. Latency minimized as well as operational and innovative features guarantee the M12 as the new flagship of new generation, not just for Airtronics or Sanwa, but for the entire R/C industry. As the saying goes time is money and the M12 responds in almost "Zero-Latency." What is Zero Latency? It's a measured total latency speed of under 1ms. That's right, the latencey of the M12 radio is under one millisecond! What's more, the "feeling" of that type of Zero-Latency is 100% adjustible, allowing drivers to change their driving condition and feel instantly. No other radio has this type of connectivity advantage.
Highlighted M12 Features:
Racing Mode Setting
Able to record D/R, Trim, Curve record allowing drivers to easily change their setting reflecting their unique driving style by a single touch
Weight Reduction: 100g less than M11x
More for Less: The folks at Airtronics Japan Engineering succeeded in weight reduction by changing internal structure
Top Telemetry and PC Link Functions
Drivers are able to use and evaluate telemetry data including that from throttle and steering operation
Access to the PC is capable with exclusive cable. Download your Telemetry settings and upload stored models or software updates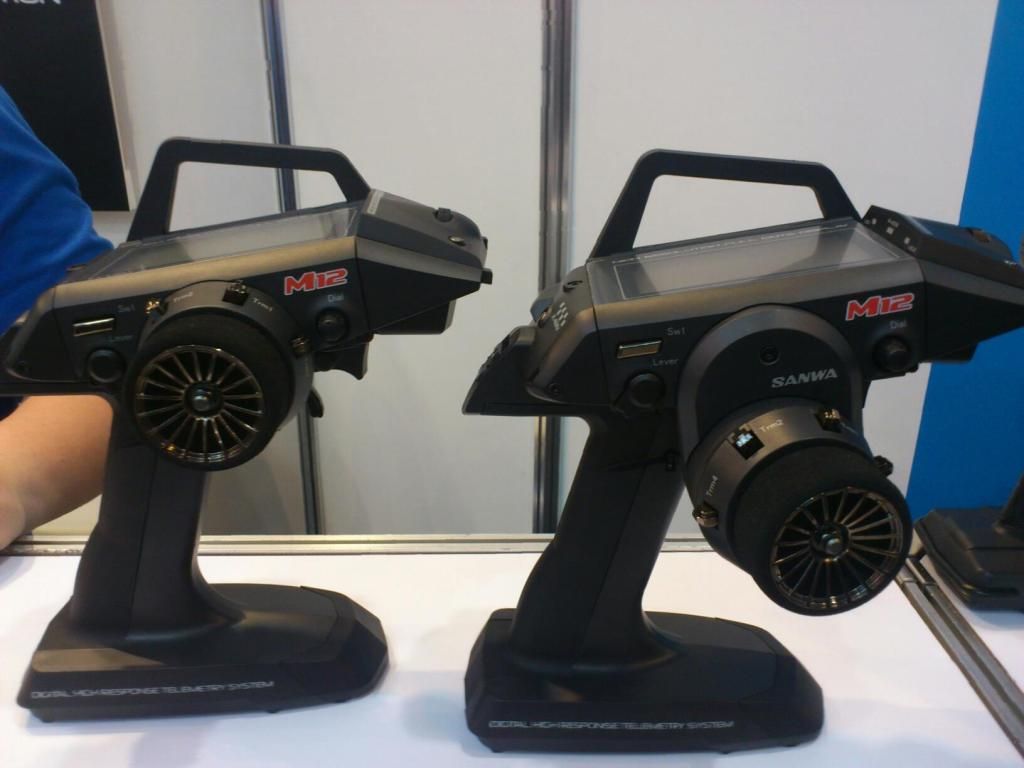 Other Bold Features:
CAR Type Select: 10 Categories - The M12 uses an entirely new approach to car setup
Racing Mode: Able to change driving conditions and settings with a single touch
Telemetry Logger: Able to record and send telemetry data to your PC
Monitoring: Share data with your friend's M12 transmitter
PC Link: Able to read and write your data to the PC
Dual Steering: Able to set your steering angle individually
Best Fit Setting: Able to set the "feeling" of the radio to match driving style and track conditions
Curve Setting: Able to fine adjust 9/18 point curve
LCD Display: 128×256 full dot LCD display
Custom Menu: User friendly Menu structure
Evolution From M11X
DMS Setting: Directly read your registered model at the launch
TH 5:5 mode: TH neutral pulse 1.5m sec
Point AUX: integrated Maximum 6 points AUX
MOA MIX : Respond to 2 motor throttle
4WS MIX: Respond to Front and Rear steering individually
SPEED Setting: ST/TH point, direction setting available
MODEL Sorts Setting: Model Order can be sorted as you like
Offset Setting: Starting Position, Break Stroke Cancel Function
Ch Set Menu Setting: Setting menu for every CH
Compatible with several battery chemistries
Other Features:
MODEL SELECT
MODEL NAME
MODEL COPY
MODEL CLEAR
BIND
SERVO
SWITCH ASSIGN
TRIM ASSIGN
DIAL ASSIGN
LEVER ASSIGN
BUZZER
VIBRATOR
LCD
AUX TYPE
TRIM TYPE
TH TYPE
BATTERY
LOG REC
LOG RPM
LOG VOLT
LOG TEMP1
LOG TEMP2
ST POINT
TH POINT
RX MODE
BOOT MENU
USER NAME
PC LINK
LANGUAGE SELECT
SYSTEM
INFORMATION
EPA
SUB TRIREVERSE
FAIL SAFE
BATTERY FAIL SAFE
LAP TIMER
INTERVAL TIMER1
INTERVAL TIMER
D/R
TRIM
CURVE(EXP,ARC,CURVE)
SPEED
ALB
BR-MIX
TH-HOLD
C-MIX
CODE AUX"
Included Accessories:
Grip Pads (Large/Small)
Two Steering Wheel Sizes
Steering Drop-Down Bracket
Steering Slant Bracket Included (Angles the Wheel Right or Left)
Needed to Complete:
NOTE: About M12 Response Mode
Please be aware that analog servos will not be compatible with the fastest radio settings: SHR, SSR mode. To prevent risk of trouble, do not use analog servo under SHR, SSR mode. Digital servos, SRG, Digital ERG, SDX can be activated under either NOR or SHR mode. SSR mode is only compatible with SRG/SSR series receivers and servos. The Airtronics M12 can be operated with all Airtronics 2.4GHz FHSS-2, FHSS-3 and FHSS-4 car receivers: RX-371, RX-442FS, RX-451, RX-451R, RX-461, RX-462, RX-471
Retail: 499.99$